Sweet things
Sweet cakes and desserts
This page contains some of the sweet things that I have made. Unfortunately I do not always take photos, so not everything is present :(. And most photos are from a SmartPhone at the office or so. So they are not the best.
Right now it is mostly a list of photos and names. Getting all the recipes together will be a work in progress between other activities. Also, most of the photos are taken directly in the kitchen or at my employer. So the setting might not always the best
.
Note that most cakes these days I take 3/4 of sugar from the recipes, it really works well in many ca(s|k)es.
Strawberry chocolate cake
Apple cinnamon cake
Pancake-pie
Raspberry cheesecake
Simple apple cake
Baci di Silvia
A variation on 'Baci di Dame'. This one is for you, Sil!
Danish 'Wienerbrot'
One of my all time favorites. If you are in Denmark, definetly get one. You will not be disappointed
.

Pink birthday cake
A pink birthday cake, first time use of food coloring

'Karnemelk' and nuts ring
Strawberry 'vlaai' without baking
Coconut cake
Stroopwafel parfait
A parfait, with the typical Dutch stroopwafels. It's really good!

Upside down pineapple cake
Quite an easy cake to make. The result is always a good looking, and even better tasting cake!

Pear-chocolate-spice cake
Pear and chocolate is a great combination.

Bienenstich
One of my personal favorites. It's a German recipe

Strawberry pannacotta
It was definetly a great pannacotta, but this size (a plastic cup size) was just a bit too per person.

Spicey pear cake
Coconut cake (another one)
Chocolate layered coconut treats
Homemade marzipan
It's quite simple to make your own marzipan. Much better than from a store
Nanaimo bars
A Canadian dessert

Apple 'kruimel' (crumb) cake
A very typical Dutch apple cake, with crumbs on top.

Chocolate cake
A chocolate cake! Always a treat. This one was without any dairy products, to make sure some other colleagues could have it
.
Orange cake
A straight forward orange cake, Orange and lemon make great cakes.
Lemon cake with lemon cream topping
Amazing cake, amazing cream topping. Liked by many colleagues and friends
Coconut pannacotta
Served as a desert, on a small layer of circular cut cake. Quite easy to make, but makes a wonderfull dessert.
Swiss roll experiment
Trying to make a swiss roll, it worked out quite well; had to use a lasagna shape for it which makes it a bit impractical. Tasty though!
Chocolate truffles
First experiment making chocolate truffles, worked out rather well!
Czech honey cake (Medovnik)
A Czech honey cake! Quite labor intensive, but might have been one of the most tasty cakes thusfar.
Amaretto cheesecake
Amaretto cheesecake, also very delicious
. Covered in some baked almonds with pastry sugar.
Almond flour cookies
Almond flour, sugar and some butter, makes excellent cookies!
Apple cake made out of slices
This was a test to see if the slices would stay nicely together.
Blue berry cakes with Creme di pasticceria
Pasta frolla (sand dough) shells filled with yellow vanilla cream and topped with blueberries.
Whole grain bread
Nothing wrong with some home made bread
.
Blueberry cake with homemade butter-milk
As an experiment made some butter, and the by product is butter milk. The butter milk was used to make this cake.
Carrot cake
Carrot cake is among my favorites to make and eat!
Blueberry / raspberry cheese cake
Chocolate ganache filled cake
Great chocolate filling!
Coconut cake
A simple coconut cake.
Irish potato cake
A cake that worked out suprisingly well. Recommended to make!
Kwark brood
No idea how to translate to English, ("pronounce it as quark bread"), but it is based upon a typical Dutch dairy product.
Layered Caramel cake from BBC Good Food
Amazing cake that is more than a 10.000 calories. Made this already a couple of times. Serve small pieces! Recipe for this cake.
Lemon Curd cake
Simple lemony cake with layers of lemon curd in the center. Perfect for summer!
Orange cake
Orange cake with slices of baked orange on top.
Orange or Mango or Mandarin cheese cake
Cannot remember exactly what this was, but it was good!
Oranjekoek
Oranjekoek ("Orange cake") is actually pink. Any Frisian person will be able to tell you, so it is always a great test to see if someone is from the north-west of The Netherlands.
Every bakery has their own recipe. Can definetly remember to try it at some time, or just to make it yourself (but not as good as in a true bakery..). This version was a bit too pink.
Pandan cake
Indonesian Pandan cake, using extract from Pandan leaves. Sweet and fluffy taste. Recommended to bake! When cut properly, looks like the Open Source logo
.
Rice cake
Rice cake. It contains mostly rice that has been cooked with vanilla beans and milk, some eggs. Nice for dessert!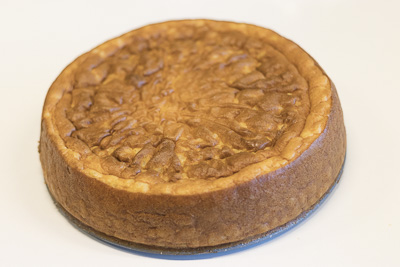 Tiramisu
This list would not have been complete with atleast one Tiramisu.
Random chocolate cake
A random chocolate cake. As it had chocolate, I am sure it was good!
Radicchio di Chiogia cake
Cake with radicchio (maybe not from Chiogia in this case). Was inspired by a visit to Chiogia in Italy.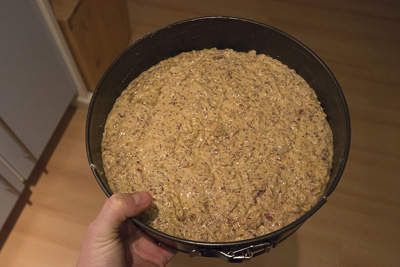 Pumpkin cake
Always wanted to make a pumpkin cake completely from scratch, without any canned puree. This worked out well!
White chocolate cheesecake with raspberries
Think this is a cheesecake with raspberries and white chocolate.
Charlotte cake
A strawberry Charlotte cake
Written by Almar Joling.